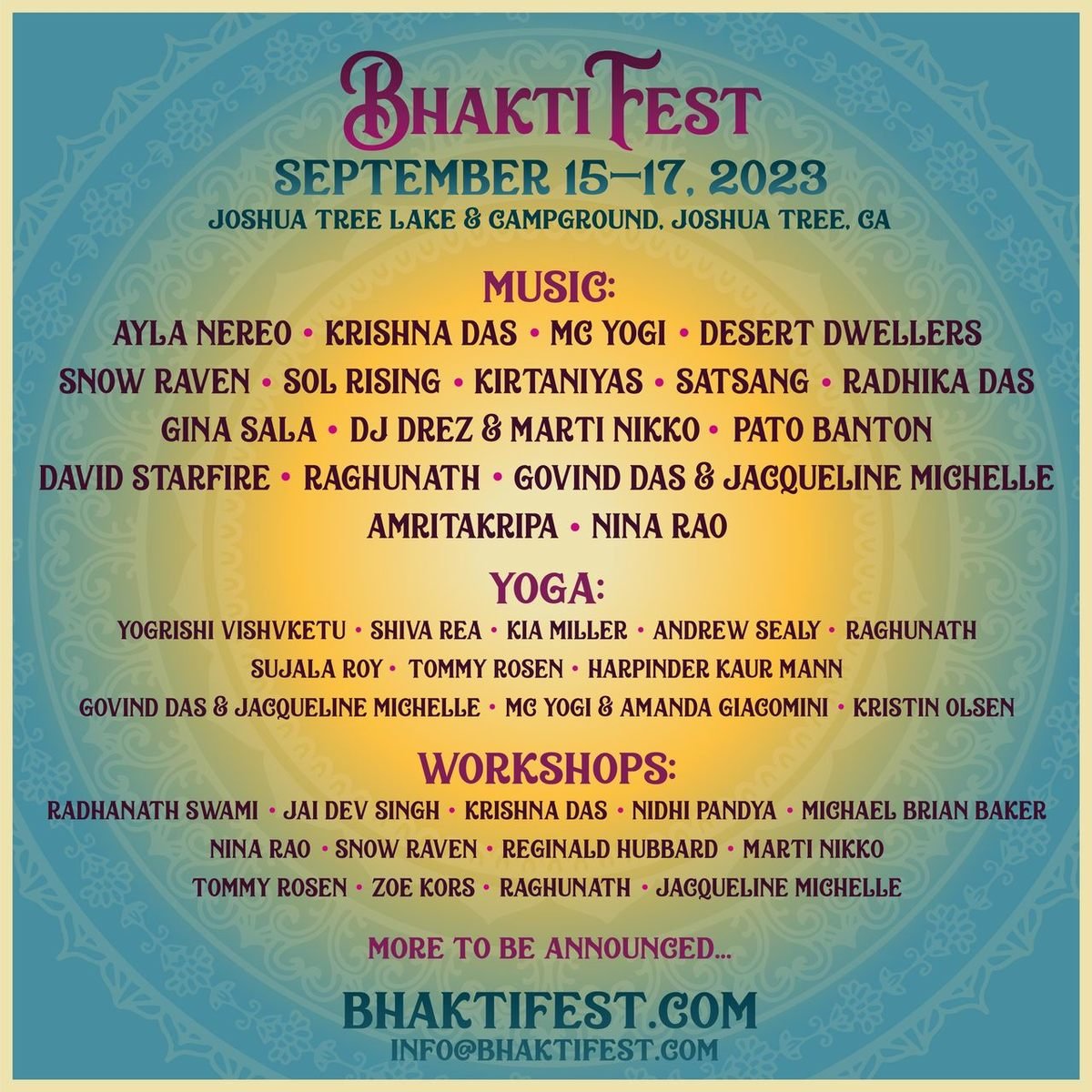 BHAKTI FEST: Back Again in 2023
THE YOGA & CONSCIOUS MUSIC EXPERIENCE OF A LIFETIME IS BACK!
After a 3-year hiatus, Bhakti Fest is making its long-awaited return! The revival of a premiere 3-day Yoga & Conscious Music Festival, offering music all day, a wide variety of yoga, breathwork, sound healing, spiritual and wellness workshops in a magical hi-desert setting at the Joshua Tree Lake & Campground.
So much to do and see at Bhakti Fest, including an incredible line-up of amazing conscious music on multiple stages, premiere yoga classes and a wide variety of spiritual and wellness workshops. All of your favorite artists and teachers will be returning, plus plenty of fresh faces. Enjoy an expanded Kidsland experience, beautiful art installations and live art, sound healings, bodywork in our healing sanctuary, a large array of amazing artisan vendors and more!
Bhakti Fest features festival favorites such as Krishna Das plus other beloved artists including Ayla Nereo, Sol Rising, MC YOGI, Satsang, Ragunath, DJ Drez and Marti Nikko, Govind Das & Radha, Kirtaniyas, and many more.
Practice with the world's top yoga teachers and spiritual leaders such as Shiva Rea, Kia Miller, Andrew Sealy, Sujala Roy, Yogrishi Vishvketu, Michael Brian Baker, Jai Dev Singh, Kristin Olson, and many more to be announced, (visit Bhaktifest.com for the full line-up coming soon).

Your registration fee for the Desert Dweller's Retreat includes the following...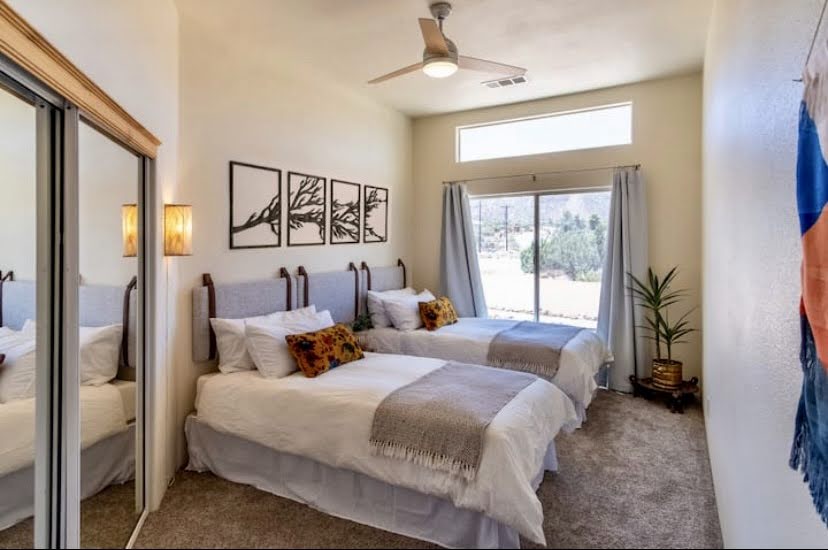 5 nights shared accommodations
A bed in a shared room, allowing you the perfect opportunity to travel with a friend or to make a new one!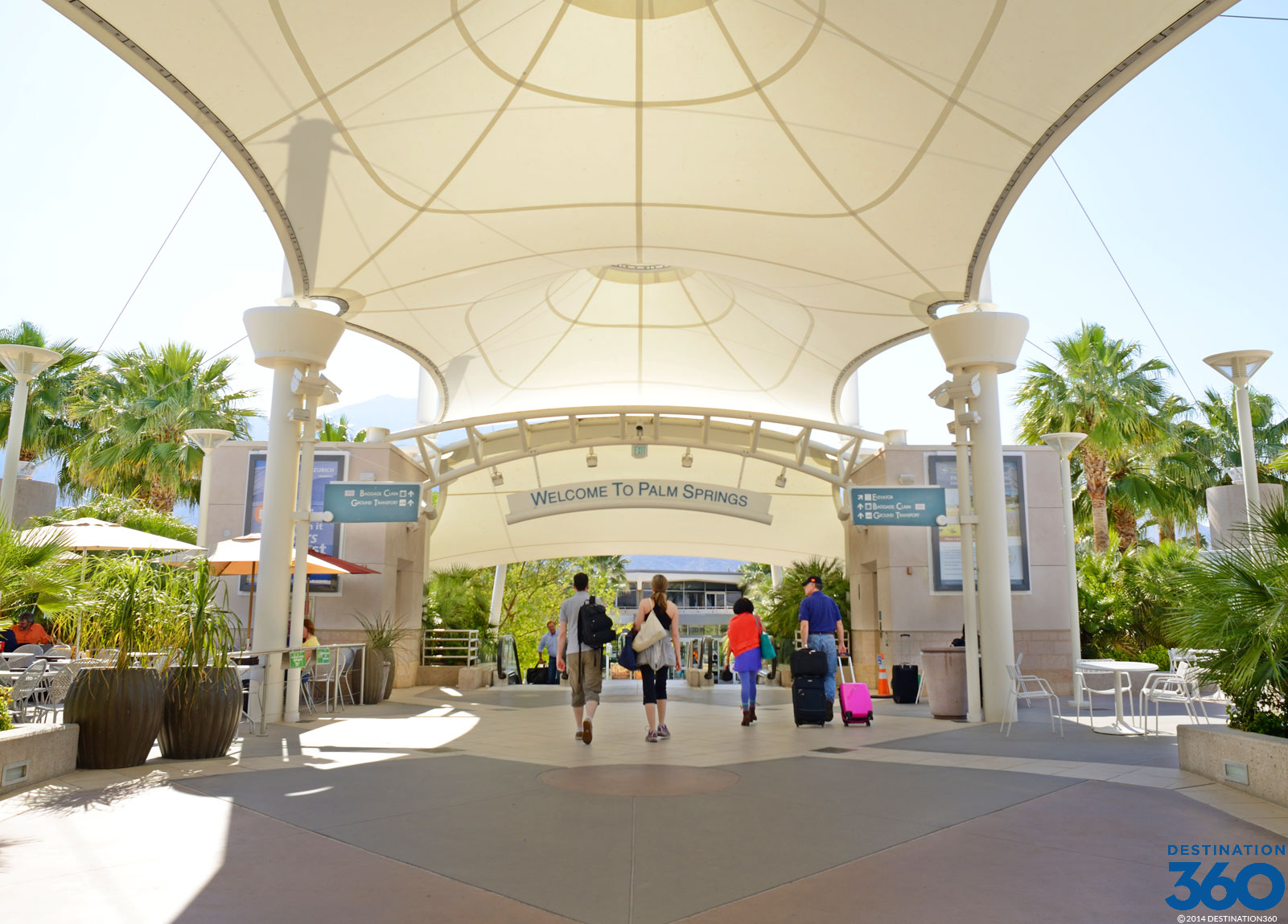 Transportation
We will be providing transportation to and from the airport in Palm Springs (PSP)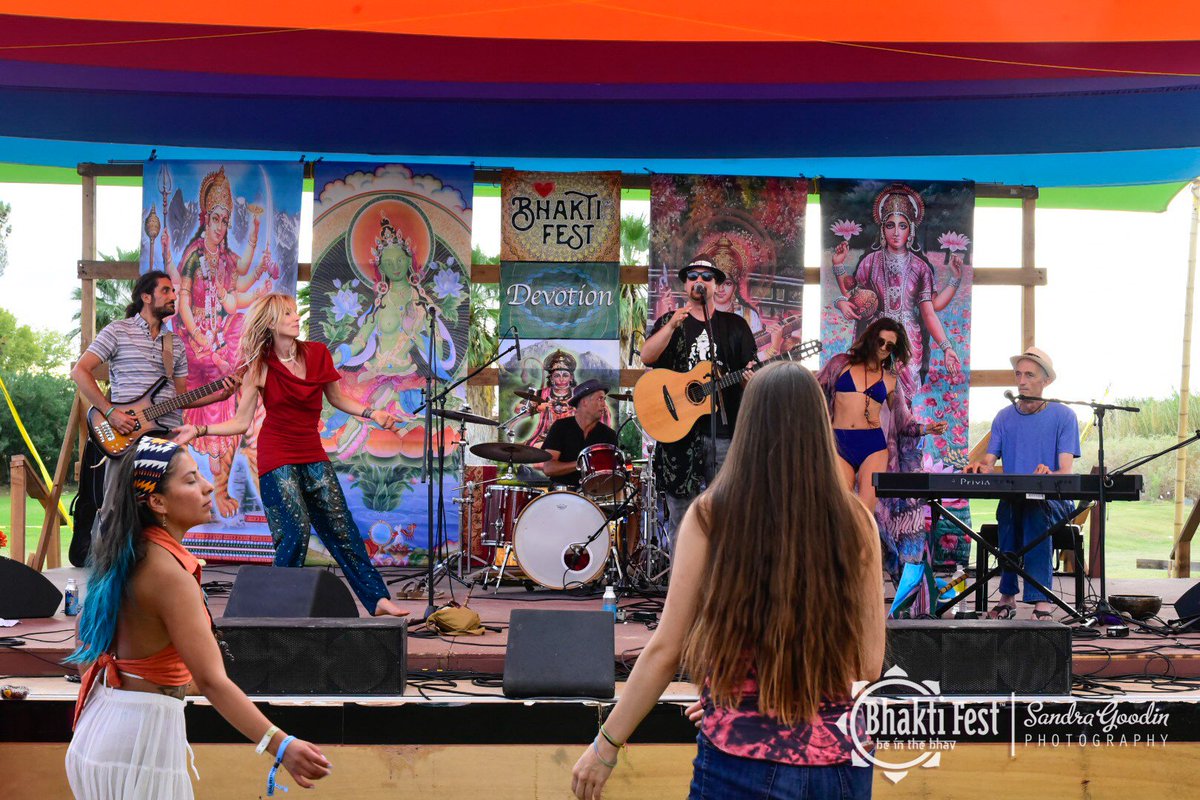 An ALL-ACCESS pass to Bhakti Fest!
Your registration includes an all-access pass to Bhakti Fest, giving you the opportunity to attend multiple workshops and yoga classes led by international master teachers as well as enjoying music from widely-acclaimed international artists.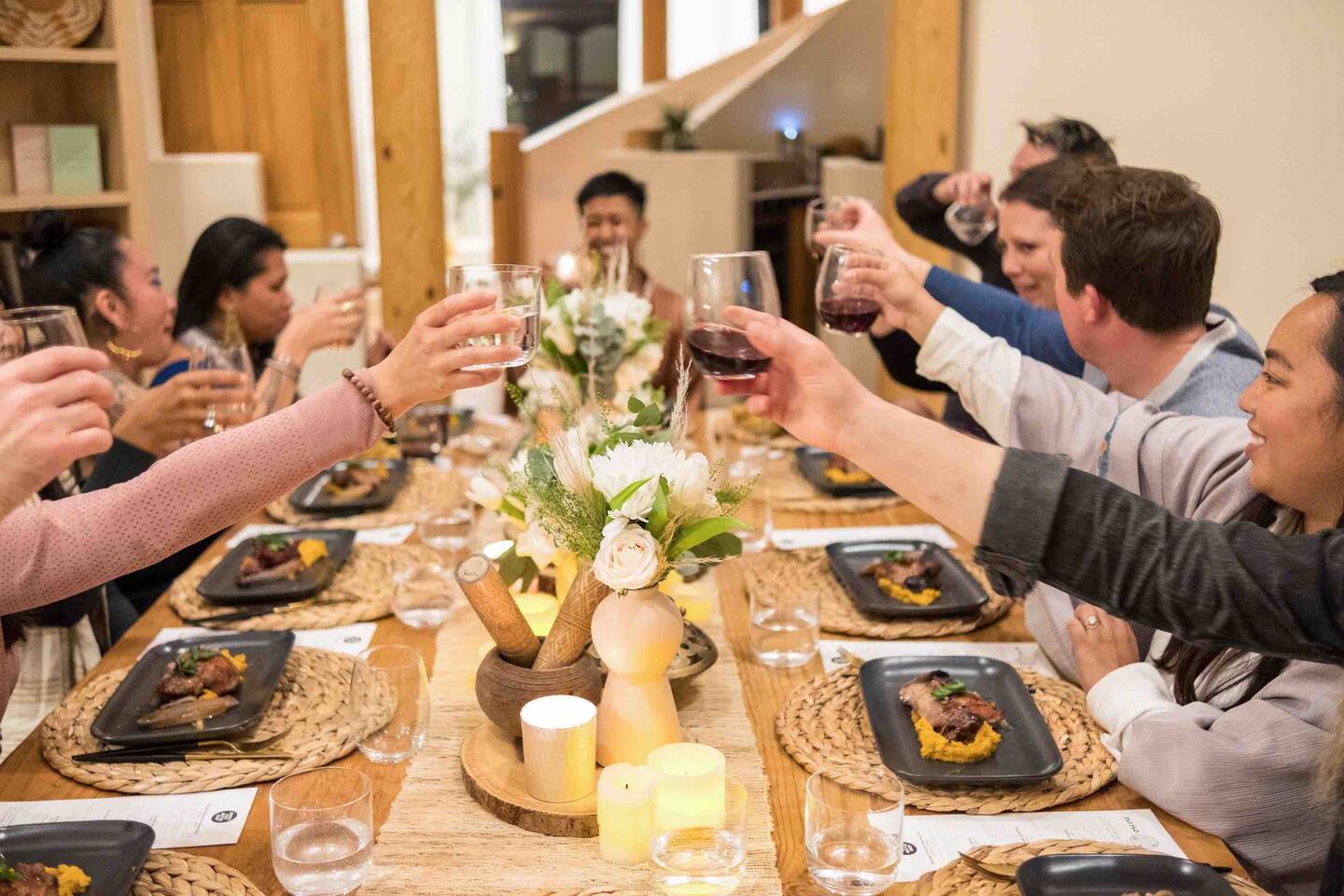 Community Meals
We will be providing nourishing, nutritionally-dense breakfast, snacks, and dinners each day to fuel us on our adventures.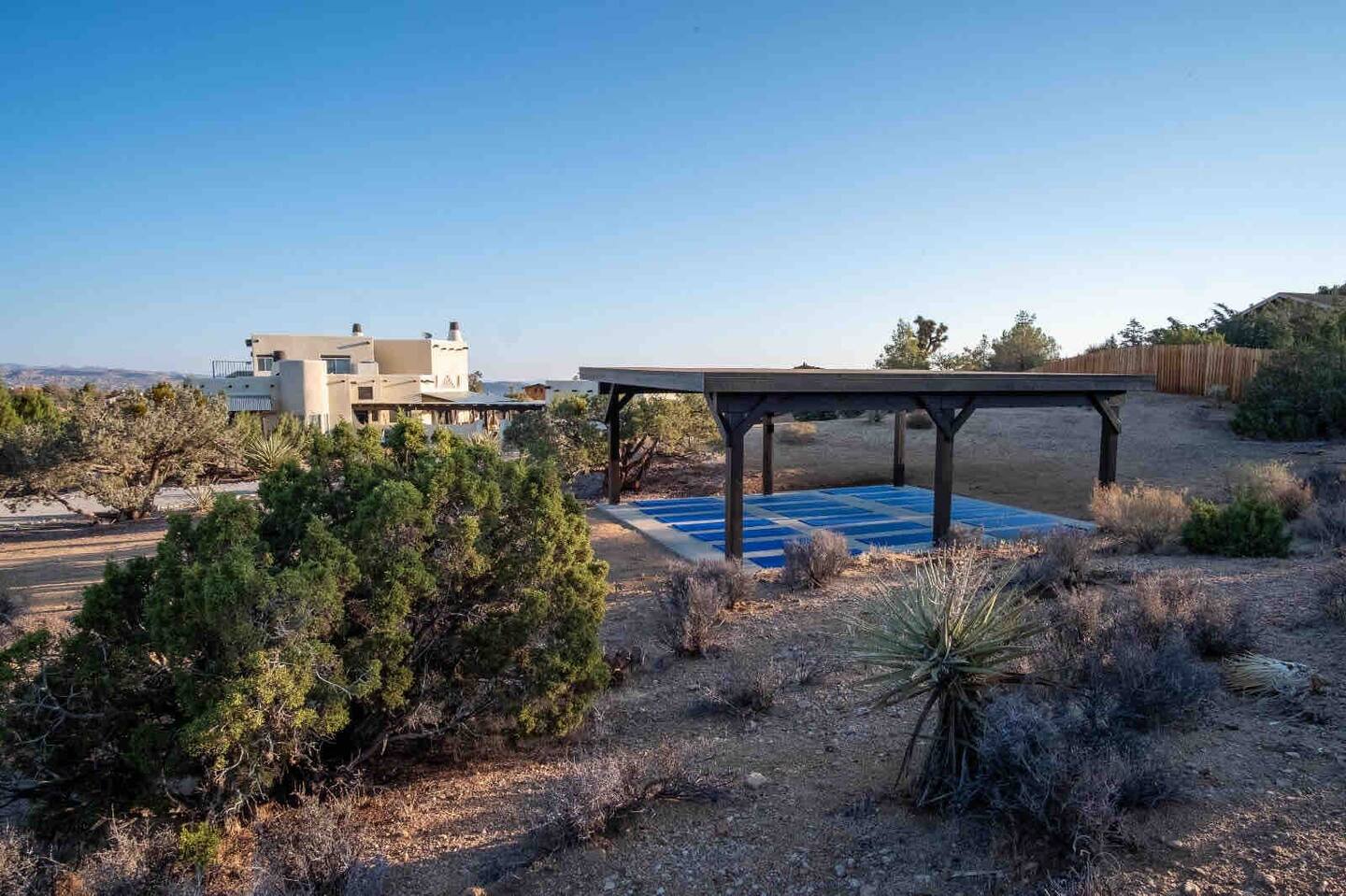 Sunrise Meditations + Yoga
Retreat leader Sherri (500-HR E-RYT) will facilitate a morning meditation or yoga practice each day.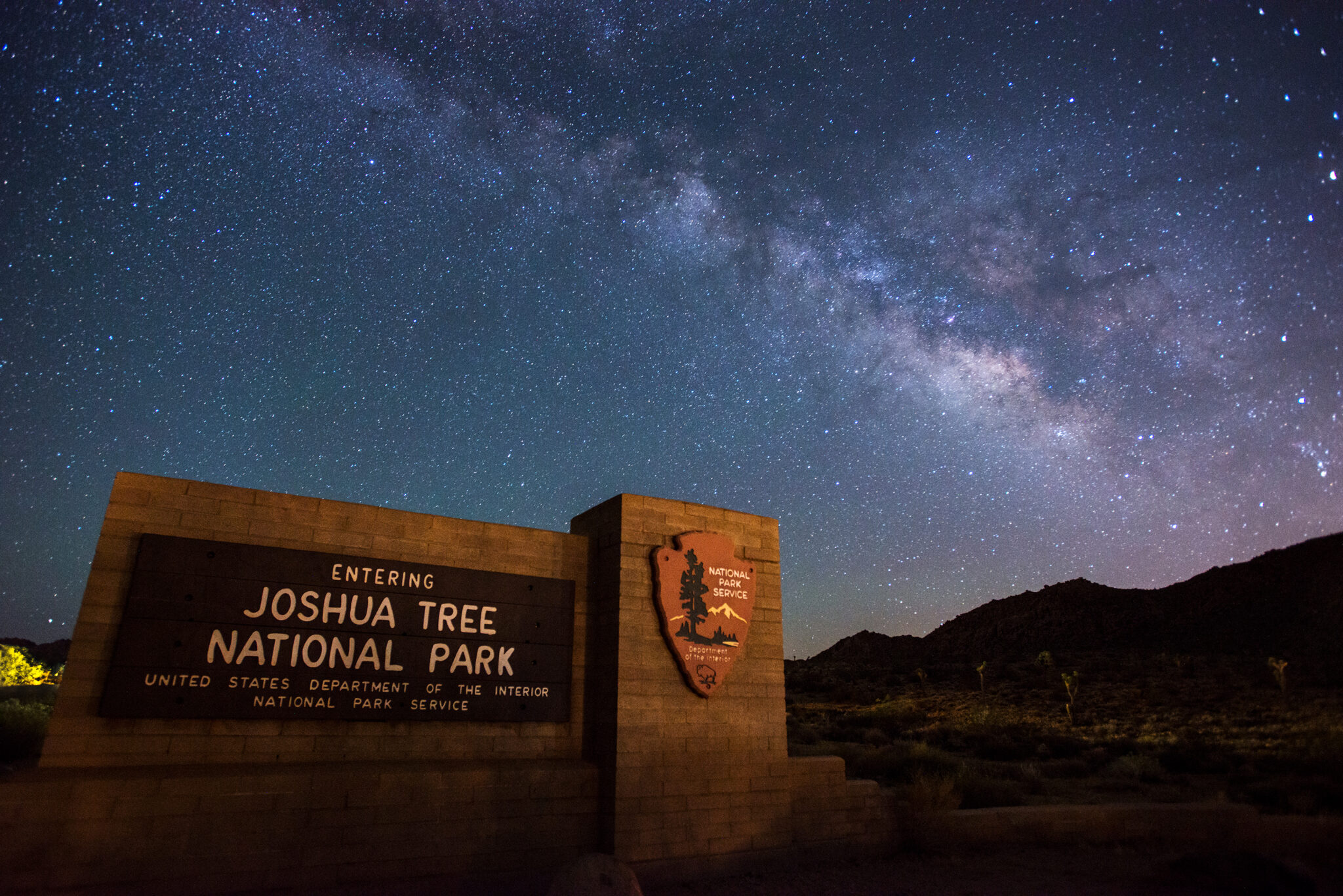 Fire Ceremonies + Stargazing
Joshua Tree's vast nighttime sky is an ethereal beauty all its own. Fire ceremonies are an opportunity to release anything no longer serving you, or to remind you of the fire in your soul. These are sacred celebrations of nature.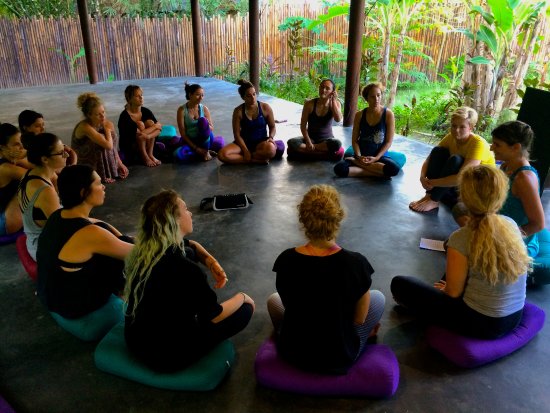 Sharing Circles
Sharing circles are an opportunity to socially connect with your fellow travelers in a deeper, more meaningful way. You get to choose how deep you go - you might surprise yourself. Sharing in this way with others seems to be a lost art - we're here to bring it back to life.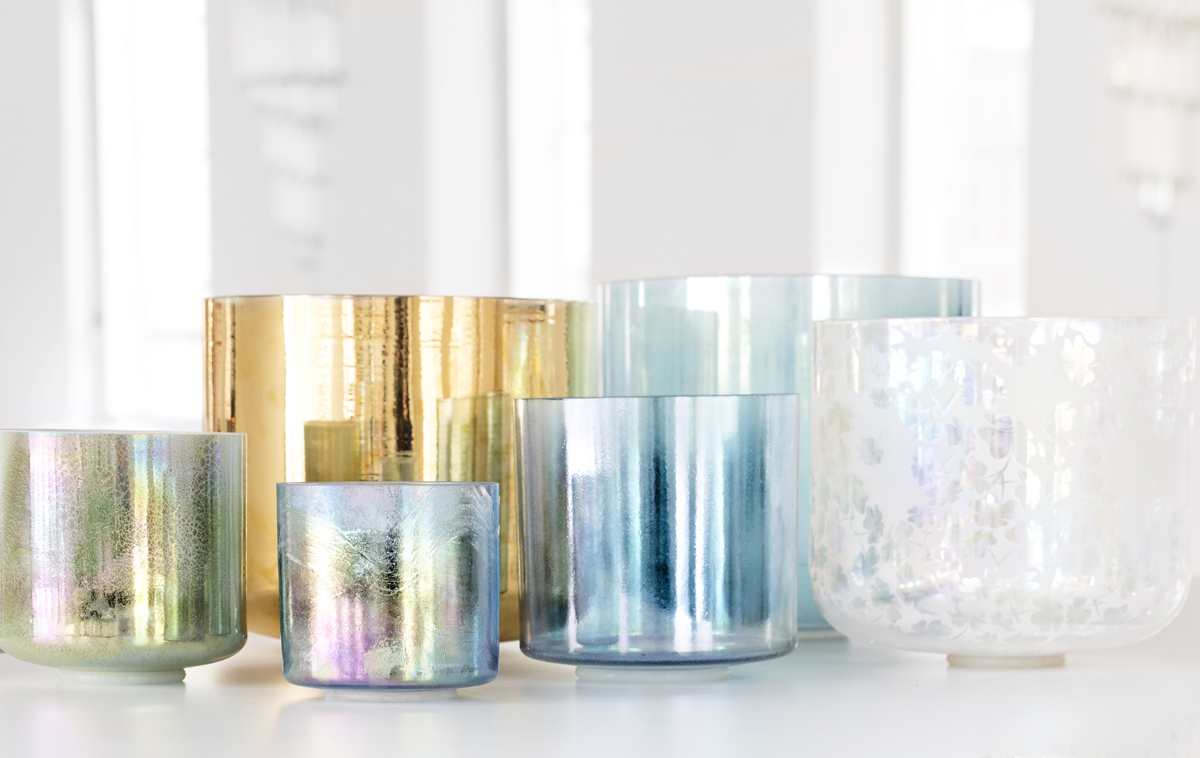 Exclusive Sound Journey
We are connected with two highly talented sound + vibration therapists who reside out in this neck of the desert. They will be providing us with our own exclusive sound journey during our stay.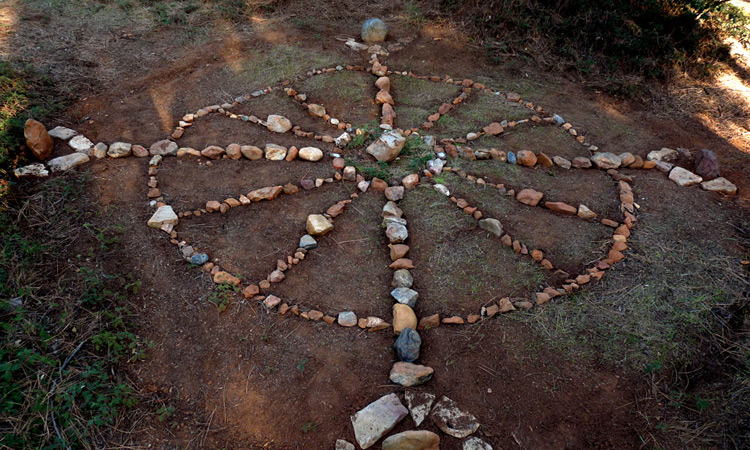 Sacred Medicine Circle for the Virgo Full Moon
As if this retreat wasn't magical enough already, we will also be in this sacred place while a Full Moon rises overhead. We will be marking the occasion and taking full advantage of the lunar power flowing through the sign of Virgo to reset and recalibrate our bodies, minds, emotions, and spiritual well-being.
What's NOT Included:
Airfare is not included. Please schedule your flights to arrive at Palm Springs (PSP) on 09/15 and depart on 09/20 as close to NOON as possible. If you have questions about this, please contact Sherri at [email protected].
Any pre- or post- immersions for the Bhakti Fest are not included.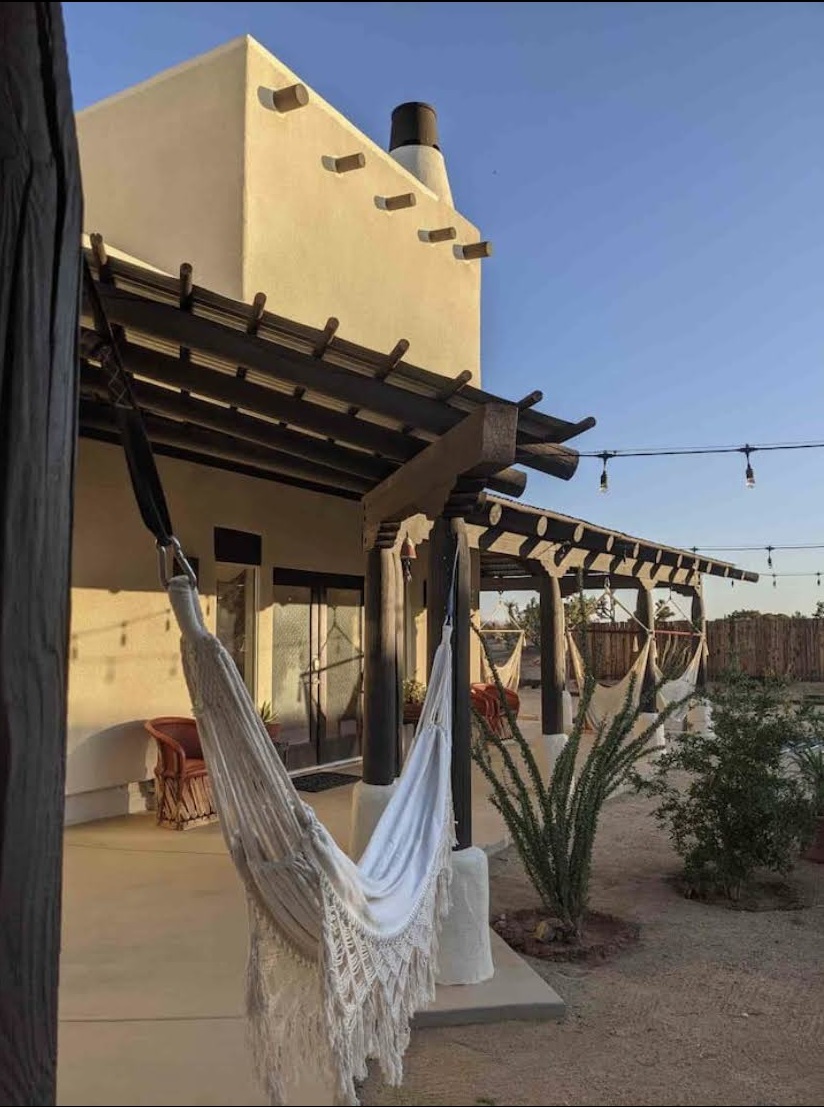 Friday, September 15
Arrive at 3:00 PM PST
Welcome Circle, review of Bhakti Fest schedule + ride/class coordination
Dinner
Sacred Medicine Circle
Bonfire + stargazing
Saturday, September 16
Sunrise meditation + slow flow yoga
Breakfast
Bhakti Fest (pack lunch)
Dinner
Music + dancing @ Bhakti Fest
Bonfire + stargazing
Sunday, September 17
Sunrise meditation
Breakfast
Bhakti Fest
Dinner
Music + dancing
Bonfire
Monday, September 18
Morning yoga flow
Breakfast
Hiking / exploring / shopping
Dinner
Sound journey
Bonfire
Tuesday, September 19
Morning yoga flow
Breakfast
Hiking / exploring / shopping
Dinner
Closing circle  + fire ceremony
Wednesday, September 20
Breakfast
Packing + coordination of departures
Transportation to airport
STOP!
Before scrolling any further, please be fully aware that once you have registered, there are absolutely no refunds. You may transfer your registration to another individual if you find that you can no longer attend. If this occurs, please contact us ASAP so that we may be in contact with our new traveler. Registration deadline is August 1, 2023.
Retreat registration fee is $2,650.00 per individual.
Please remember that this fee includes 5 nights in a comfy bed, transportation to and from the airport, an all-access pass to Bhakti Fest, breakfasts, snacks, and dinners, sunrise meditations + yoga, fire ceremonies, sharing circles, an exclusive sound journey, and a facilitated trip to the medicine circle for the Virgo Full Moon. Airfare is not included.
By scrolling below, you may choose which bedroom you would like to stay in.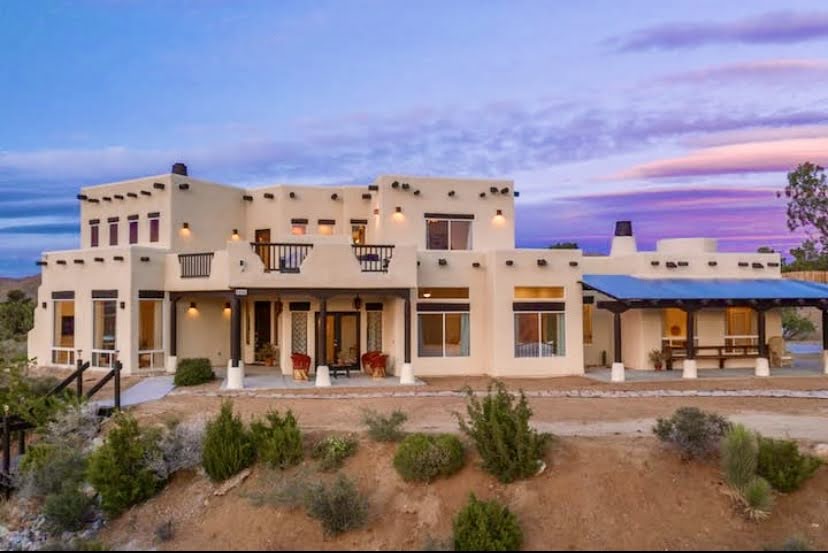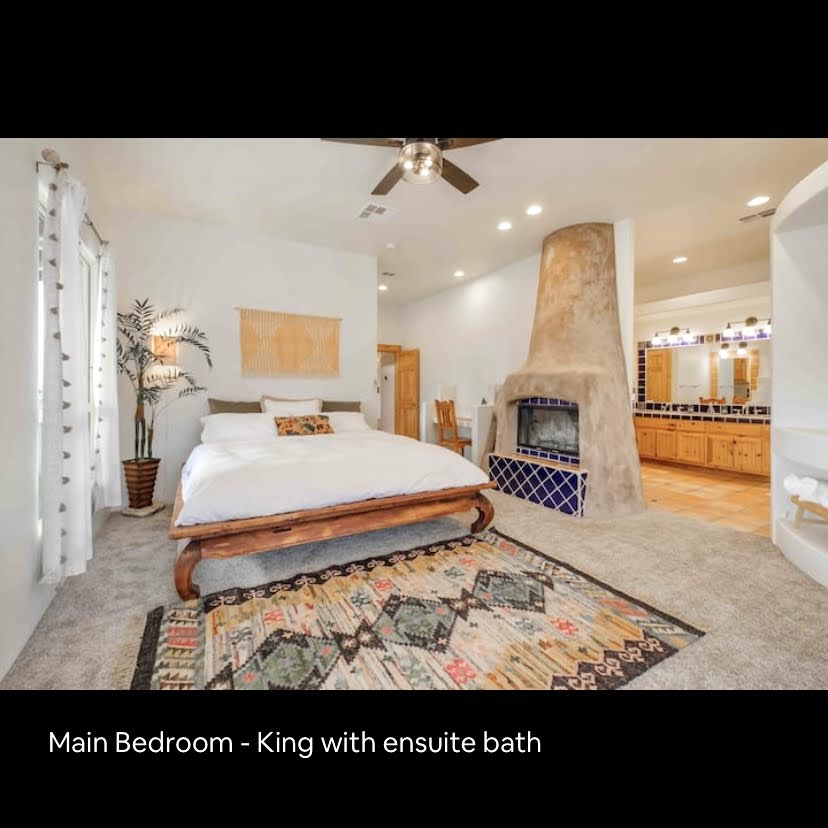 SOLD OUT - ROOM 1

Master Bedroom
No longer available.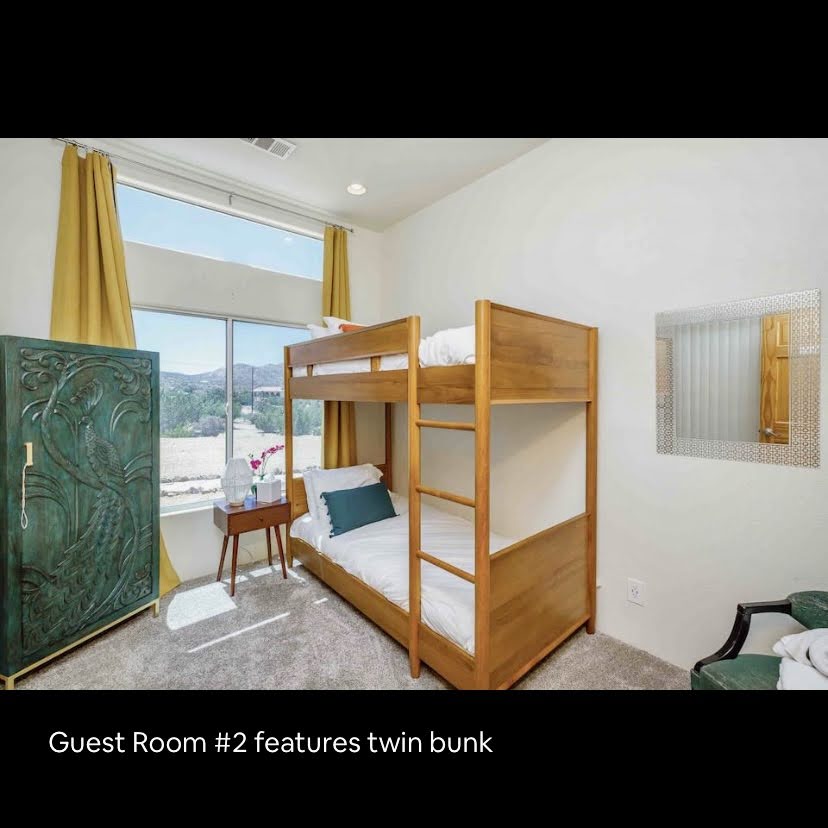 ROOM 2

Twin bunk bed.
Only 1 bed still available!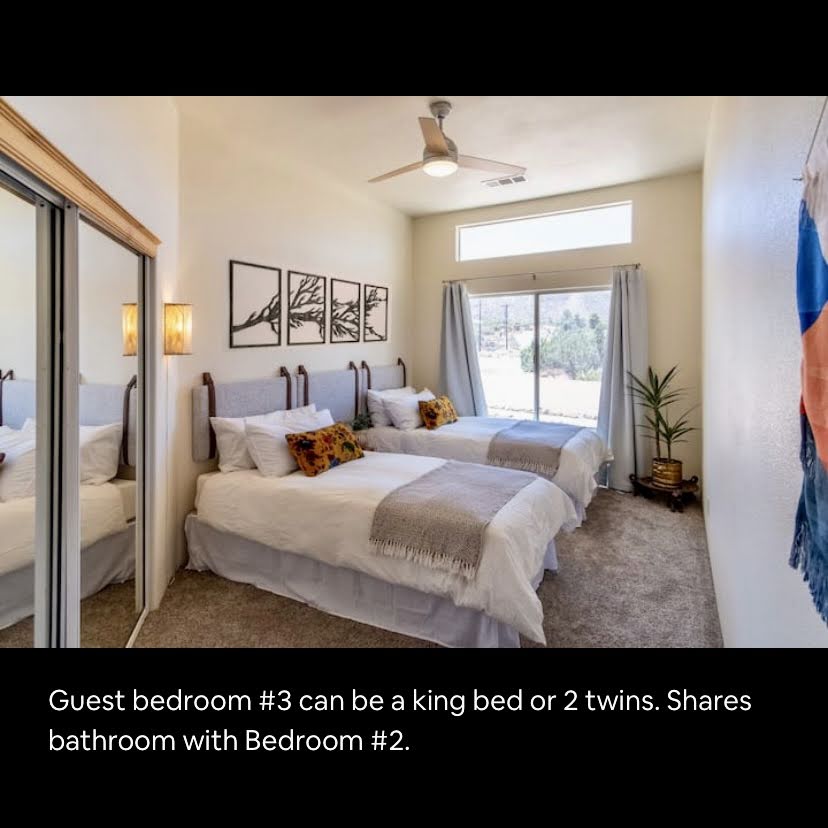 SOLD OUT - ROOM 3

Two (2) twin XL beds.
No longer available.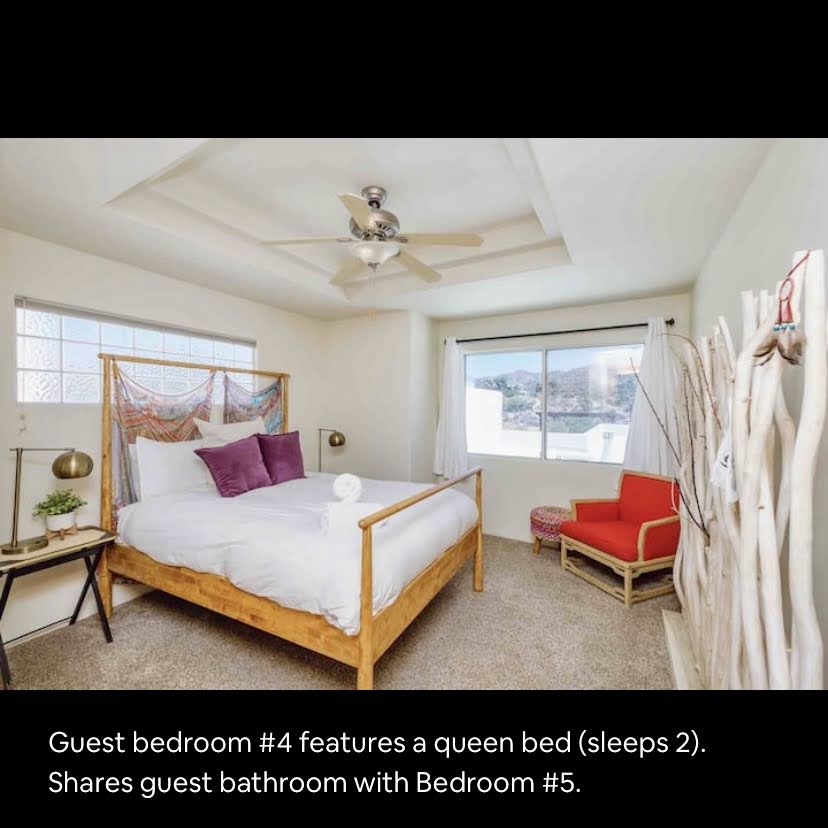 SOLD OUT - ROOM 4

One (1) queen bed.
No longer available.
ROOM 5

Four (4) beds - two (2) twin beds and twin bunk bed.
3 beds (1 twin + bunk beds) still available!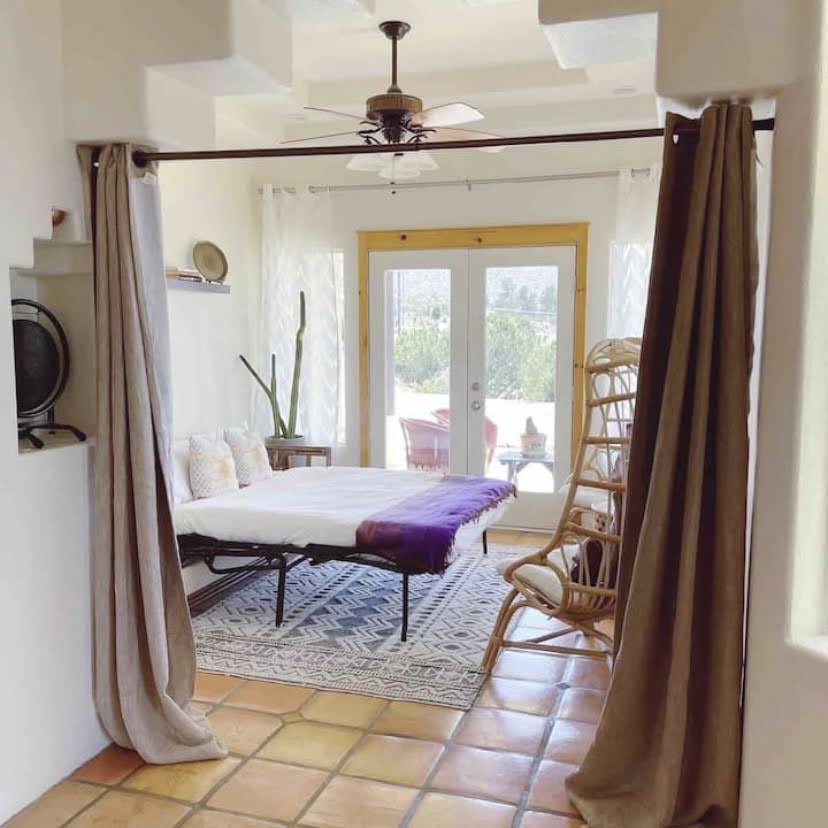 ROOM 6 - Den/Lounge
Will feature a twin daybed with trundle bed (by June 2023, per venue owners) - this is a shared room (2 beds)
2 beds still available!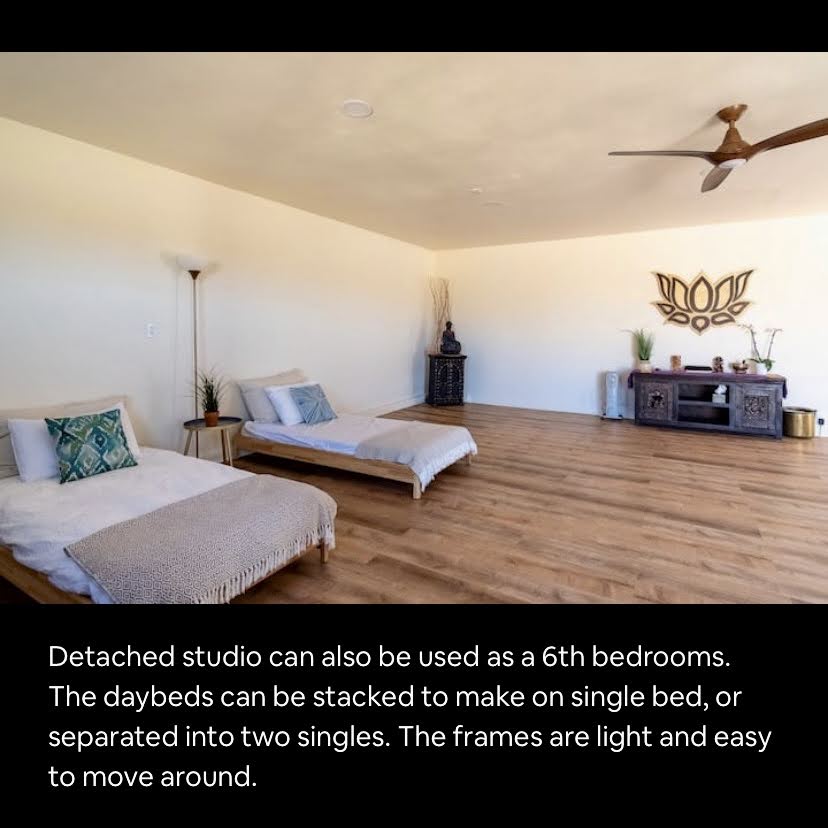 ROOM 7 - The Yoga Studio

Two (2) twin daybeds.
2 beds still available!